Conference Location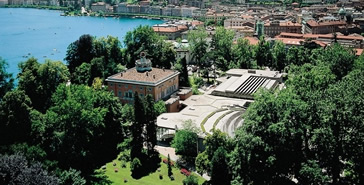 Palazzo dei Congressi
Piazza Indipendenza 4
CH 6900 Lugano
Switzerland
Local Arrangements Committee (LAC)
Ladina Gilly, Local Arrangements Chair
CSCS – Swiss National Supercomputing Centre
Via Trevano 131
CH-6900 Lugano
Monique Schneebeli, Local Arrangements Coordinator
CSCS – Swiss National Supercomputing Centre
Via Trevano 131
CH-6900 Lugano
CUG 2014
CUG 2014 Best Paper Award Winner
The CUG 2014 Best Paper Award is awarded to "Optimising Hydrodynamics applications for the Cray XC30 with the application tool suite"
Authors: Wayne P. Gaudin (Atomic Weapons Establishment), Andrew C. Mallinson (University of Warwick), Oliver FJ Perks and John A. Herdman (Atomic Weapons Establishment), John M. Levesque (Cray Inc.), Stephen A. Jarvis (University of Warwick) and Simon McIntosh-Smith (University of Bristol)
CUG 2014 Best Paper Finalist
The CUG 2014 Best Paper Finalist is awarded to "User-level Power Monitoring and Application Performance on Cray XC30 Supercomputers"
Authors: Alistair Hart and Harvey Richardson (Cray Inc.), Jens Doleschal, Thomas Ilsche and Mario Bielert (Technische Universität Dresden) and Matthew Kappel (Cray Inc.)
CUG 2014 Best Paper Finalist
The CUG 2014 Best Paper Finalist is awarded to "Large Scale System Monitoring and Analysis on Blue Waters using OVIS."
Authors: Michael T. Showerman (National Center for Supercomputing Applications/University of Illinois), Jeremy Enos and Joseph Fullop (National Center for Supercomputing Applications), Paul Cassella (Cray Inc.), Nichamon Naksinehaboon, Narate Taerat and Tom Tucker (Open Grid Computing) and Jim M. Brandt, Ann C. Gentile and Benjamin Allan (Sandia National Laboratories)
Dear Friends and Colleagues,
The Swiss National Supercomputing Centre (CSCS) invites you to CUG 2014 in Lugano, Switzerland. Southern Switzerland, near the border to Italy, is where some of the best Merlot is made, a place where Italian life style blends with Swiss infrastructure and home to CSCS.
In this exciting age of great technological changes, CUG 2014 will take a broader look at all emerging supercomputing platforms. Users, developers and administrators will have opportunities to discuss and openly debate the impending future of supercomputing, in which the architectures for exascale computing are beginning to emerge. Will supercomputing develop along established lines, as many would hope, or will hybrid multi-core architectures with new programing models disrupt our field? Dilemmas like this and the heated debates they cause are not new to the field. They cause a lot of excitement that will make CUG 2014 all the more interesting.
As a unit of ETH Zurich, CSCS continues a long tradition of pioneering work in scientific computing that began at ETH with the procurement of the Z4 – this was Prof. Zuse's first commercial sale, – and later included the early generations of Cray systems such as the Cray 1, Cray 2, Cray XMP and YMP. More recently, CSCS has been the site where new systems such as the Cray XT3 made its European debut and where the Cray XE6, the Cray XMT-2, the Cray XK6 and Cray XK7 were first put into production. CSCS is the first site with a large Cray XC30 installation, and is now moving to the next level with an extension of this architecture to a hybrid multi-core architecture that will be powered by NVIDIA GPUs.
At the national level, CSCS is leading a network for development of advanced scientific computing applications that includes all major Swiss universities and will drive high-end simulational science to the next level.
The Palazzo Congressi, situated in the city park on the shores of Lake Lugano and in the immediate vicinity of downtown Lugano will offer a scenic backdrop and relaxing atmosphere to the conference. Historic settings, excellent gastronomy and culture will enrich the social events throughout the conference.
We very much look forward to welcome you to Lugano!
Sincerely,
Thomas Schulthess
Director
CSCS – Swiss National Supercomputing Centre